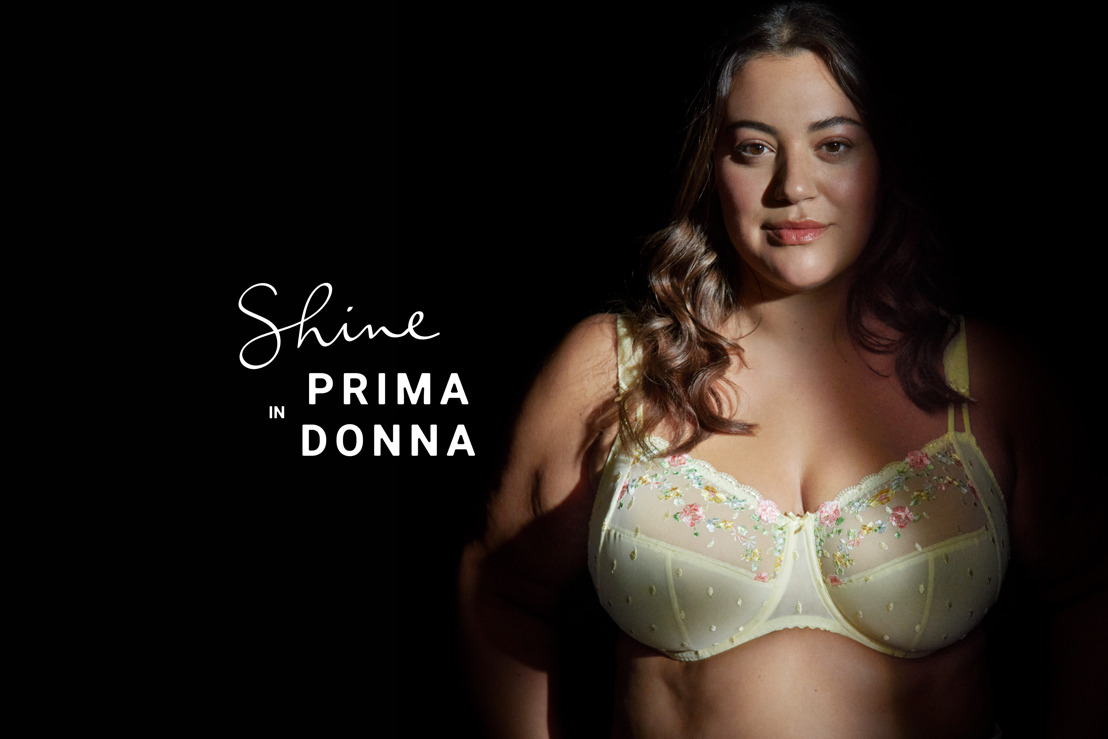 The confidence to shine in PrimaDonna lingerie: No modeling experience required
PrimaDonna shines the spotlight on fans
You don't have to be a professional model to pose in beautiful lingerie. PrimaDonna, the Belgian lingerie brand for women with a larger cup size, shined the spotlight on five loyal fans of different ages and from different countries. Because nobody knows and explains it better than the women who wear our lingerie: PrimaDonna lingerie can do wonders for your body and your confidence.
"We've received grateful responses and stories from countless women over the years," says Céline Soto Perez, head of Marketing at Van de Velde lingerie group. "Some only recently discovered PrimaDonna, while others have been fans for years. They are often gripping testimonies, full of gratitude, relief, pride, .... Familiar, heartwarming, and far too beautiful not to share with others. And so the idea arose to feature PrimaDonna lovers as the face of our brand and ask them to present the new collection. After all, no one knows the effect of PrimaDonna lingerie better than our fans."
Lingerie as a life-changer: Never again compromise between fashion and the perfect fit
For women with a larger cup size, the moment they discover PrimaDonna lingerie is very often a life-changer. Shopping for lingerie becomes something enjoyable, a bit of "me-time" to pamper yourself.
And it goes beyond just that: Wearing beautiful, fashionable, and comfortable lingerie with an impeccable fit and incredible support for larger cup sizes can have a positive impact on your confidence and the way you look at yourself, as our fans regularly tell us.
"Every season, we launch a new lingerie collection that translates the latest fashion trends into wearable, comfortable lingerie with the best support for cup sizes B to M," explains Liesbeth van de Velde, Head of Brands & Design at PrimaDonna.Never again do women with a larger cup size have to choose between fashionable lingerie and a comfortable bra. We're here to deliver those fun, feel-good vibes."
Every PrimaDonna bra is extensively tested before it goes into production. We have a test panel of more than 60 women, very often PrimaDonna coworkers, who evaluate a bra's comfort and fit. Based on their feedback, the bras are adjusted until each fits perfectly – in every cup size.
"Fashionable and sexy on the outside, with a comfortable fit and sturdy support on the inside," says Céline Soto Perez, Head of Marketing. "Our lingerie makes women with a larger cup size truly shine. Now, we're turning the camera to the fans that inspired our collections and giving them the opportunity to shine in PrimaDonna."
These women with a larger cup size have no professional modelling experience but shine in PrimaDonna lingerie every day. Full of confidence, they pose for our photographer and showcase the PrimaDonna summer collection in a series of personal and emotional portraits. Authentic, confident, and totally unique.
Personal portraits strike a chord
Evelyn Verstraeten, Communications Manager: "In recent years, the stories and experiences of our fans inspired a community that quickly became the beating heart of PrimaDonna. These heartfelt testimonials struck a chord among women with a larger cup size. They recognized themselves in the stories and identified with the women they saw."
​
Many more will see themselves in the personal and emotional portraits we now created. After all, the confidence with which our PrimaDonna lovers pose and tell their story didn't always come naturally. Discovering PrimaDonna lingerie played a big part in that, as the intimate video and audio testimonials reveal.
"PrimaDonna helped me see myself in a gentler light." Phyllis
"All women deserve to wear PrimaDonna because all women deserve to feel feminine and sexy. PrimaDonna lingerie helps you embrace your authentic self." Vivian
"I realized that you instantly feel better when you wear something that truly fits your body and your breasts. And that it makes you feel feminine and sexy." Serine
"PrimaDonna for sure helped me look at my bra size and not see it as a problem. Before it used to be a struggle to find something that didn't only fit very well, but also looked very good. So I don't have the same stress anymore. I know where my go to is." Gabriella
'For ages I was a bit of a tomboy. PrimaDonna just makes me feel like a woman. It just gives me more self-confidence and it's just more me.' ​ Ulrike
Act of self-love
For our models Gabriella, Phyllis, Vivian, Ulrike and Serine, participating in the photo shoot was an act of self-love and a way to encourage other women to take the step to experience the PrimaDonna effect in person. "I felt I owed it to my younger self and to other women to pose for the camera in lingerie that made me feel confident," says Gabriella.
Or, as PrimaDonna fan Ulrike put it: "PrimaDonna made me feel more confident and feminine, like the best version of myself. Being part of this campaign was my way of giving back and inspiring other women to see how beautiful they are. All women with larger cup sizes deserve to feel comfortable in beautiful lingerie. PrimaDonna made me realize that I deserve to love myself."
Click here for more visuals.