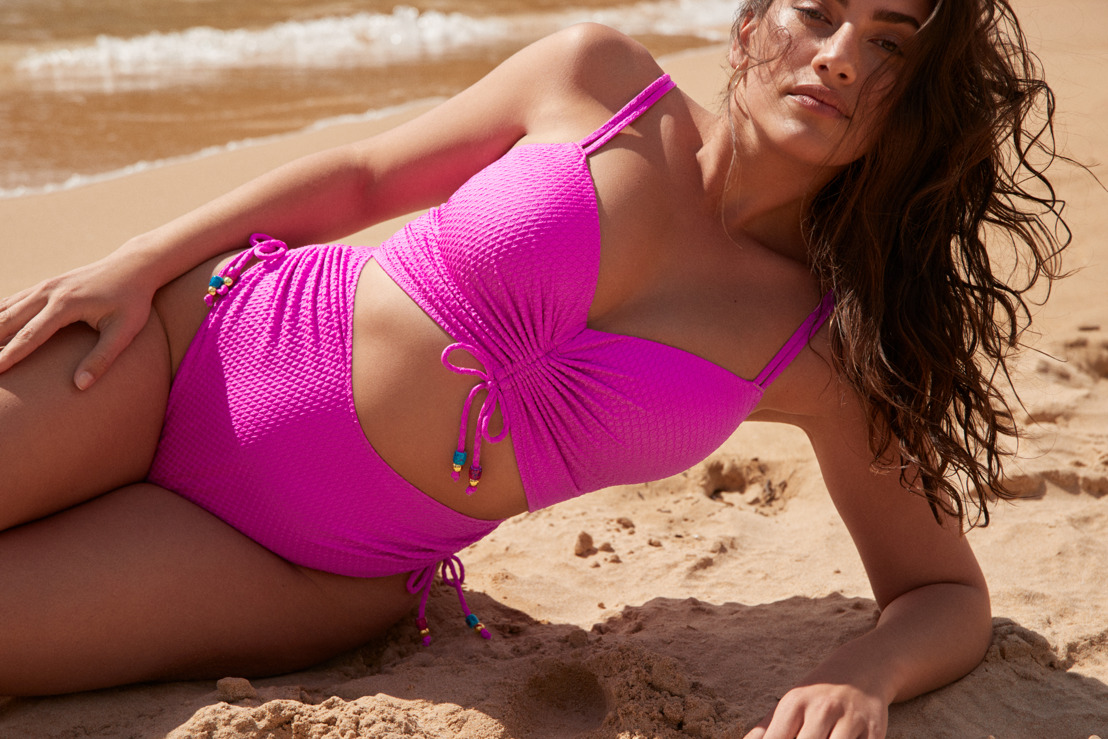 Stop, Recharge, Chill:
PrimaDonna Swim Launches SS23 Collection
Whether you're doing sweet nothing, taking a fun boat trip with friends, or spending hours at an al fresco bar: Do it in style and comfort with PrimaDonna Swim this summer. Our new summer collection is full of bikinis and trendy swimsuits in happy colors as well as beach accessories that are perfect to wear as summer outfits. Fashionable, bold, sexy... And always providing the best fit for your larger cup size.
Confidence On and Off the Beach
Recharge at your own pace this summer with PrimaDonna Swim. Even on overcast days, those fresh prints and bold color combinations will give you sunny vibes and sexy styles, plus the best support for your larger cup size.
Did you know that you'll also find your favorite fit in PrimaDonna lingerie at PrimaDonna Swim? Whether a full cup bikini top that covers your body a little more, a padded balcony bra to give you sensual cleavage, or a sexy plunge triangle top: Choose the style in which you feel comfortable and as confident as you do in your PrimaDonna lingerie. Radiate confidence in this swimwear, which is also completely Instagrammable. After all, those photos in your swimsuit or bikini deserve a place in your vacation album, too!
Bold, Beautiful, and Sexy... and the Ultimate Fit for Your Fuller Bosom
Looking for some positive, laid-back vibes to kick off your vacation? PrimaDonna Swim will give you just that. The SS23 collection also has an unmistakably sexy look, inspired by the huge comeback of dressing sexy. Our PrimaDonna designers have expertly translated this into swimwear that offers comfortable support for your fuller bosom. Because everyone deserves a trendy beach look!
PrimaDonna Swim Kea: 70s Glitz and Glam
Wearing color isn't just for the fearless few, as shown by our funky swimwear that makes everyone look like a star. The bikinis and the deep plunge swimsuit are made of glittery swimwear fabric, featuring subtle stripes that follow the shape of your body. The flattering styles boast a groovy 70s look and a very comfortable fit for your larger cup size.
​Joining the sexy swimsuit in the "absolute eye-catcher" category is the deep plunge triangle top with retro high-waisted briefs. The top has integrated semi-vestan cups that are light yet provide fantastic support.
PrimaDonna Swim Solta: Almost Too Chic for the Beach
Despite looking like they're straight off the catwalk, these chic styles have been designed for days and evenings at the beach. With their asymmetric designs and shimmery and gold details, this swimwear is effortlessly on trend.
Our favorites include the stylish swimsuit with a very low-cut back, which you can wear with one or two straps, or the bikini top with removable decorative ribbon and PrimaDonna's comfortable balcony fit. So stylish!
PrimaDonna Swim Narta: Swimwear with Attitude
These cool styles in flashy fuchsia pink and with textured lace and cut-outs are absolute showstoppers. The bikini top with balcony lining gives you beautiful cleavage and is a great match with the briefs, which you can adjust to the height you prefer.
The absolute must-have in this series is the swimsuit with an open back and a sexy cut-out around your stomach. Style it however you like – whether completely open or a bit more closed, like a tankini. The padded cups provide excellent support for larger cup sizes!
PrimaDonna Swim Sazan: Fluorescent Flower Power
Let the sunshine in with the floral splendor of PrimaDonna Swim Sazan. You can't help but embrace those tropical vibes in a radiant beach outfit with fluorescent details.
Sun-bathe in style in this series, which features a bandeau balcony bikini top with detachable straps and decorative ribbons. The padded cups give your larger cup size the best support.
The Finishing Touch for Your Beach Look
A bit of sightseeing, a refreshing dip in the ocean, and a bite to eat. Whatever you choose to do, our stylish accessories such as a breezy kaftan or a summer maxi dress will have you covered. Feel free to mix and match them with your favorite swimwear for a stylish beach look, or wear them as a trendy summer outfit.
The maxi dress with a low-cut back and summery allover print by PrimaDonna Swim Kea is perfect for dinners out, and the long dress by PrimaDonna Swim Solta is ideally suited as a sexy cocktail dress. Versatile and elegant!
Click here for more visuals.