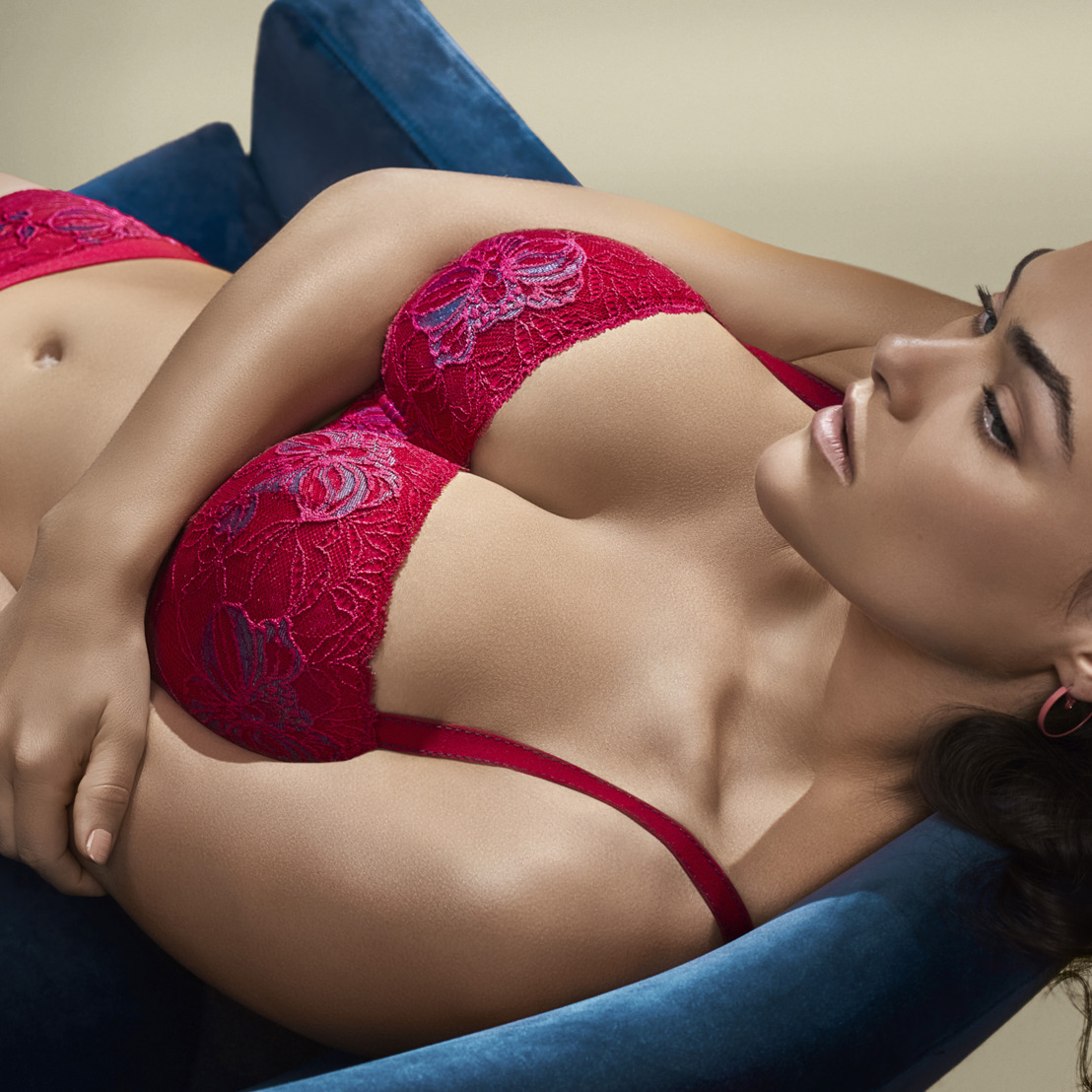 PrimaDonna Twist Winter 2018: trendy design with a unique twist
Wednesday, July 25, 2018 — Trendy lingerie with the perfect fit are the trademark features of PrimaDonna Twist. This autumn collection with original designs ranging from sporty lace to an elegant leather-look and the perfect fit for larger cup sizes, encapsulates this reputation perfectly.
Sporty meets sexy
Lace is as hot as ever, and we adore it. It always perfectly follows the shape of your body, is airy, and looks incredibly sexy. PrimaDonna gives this trend a sporty twist with the French Kiss collection. Colourful lace in sensual retro designs with trendy elastic bands on your shoulders and waist. The ultimate mix of fashion, flirtatiousness, and the perfect support.
A sexy camouflage look
As we're talking about girl power, these flirtatious Muse sets with camouflage print perfectly capture strength and beauty.
Fine lace and feminine tulle in flattering army colours are combined with a leather-coloured fringe detail for a playful twist. An irresistible mix of ultra-feminine details with a touch of cool!
Style tip:
Wear the lace army-print top any way you like: with one or both shoulders bared, combined with a cool pair of jeans or an elegant skirt. The fanned skirt just covers your bum. Both comfortable and flattering!
From PrimaDonna, with love
PrimaDonna Twist has always proudly declared its love for curves and these sets emphasize their dedication to the womanly form. The 'love' text and embroidered kisses add a playful and frivolous touch. With love, from PrimaDonna.
Leather look and 50s designs
With the extra high-waisted briefs and bras with a broad retro back panel, the Guilty Pleasure sets are a wonderful ode to the 1950s. But it's that trendy fabric that makes us go weak at the knees. It looks like leather but is super-airy. But ssshhht; it's our little secret, right?
Colour tip:
Look cool and stylish in Charcoal, a deep shade of black.
If you prefer a softer colour for you winter skin, then try the trendy greyed nude Patine that you can wear all-year round.
A thousand sparkling lights
An evening stroll along the Seine, surrounded by thousands of sparkling lights... That is what the warm shades of gold of these sets embody. Parisian Night is a flattering lingerie collection with a high dose of romance. An elegant tip for parties!
For more visuals go to our media gallery.
PrimaDonna Twist Autumn/Winter 2018