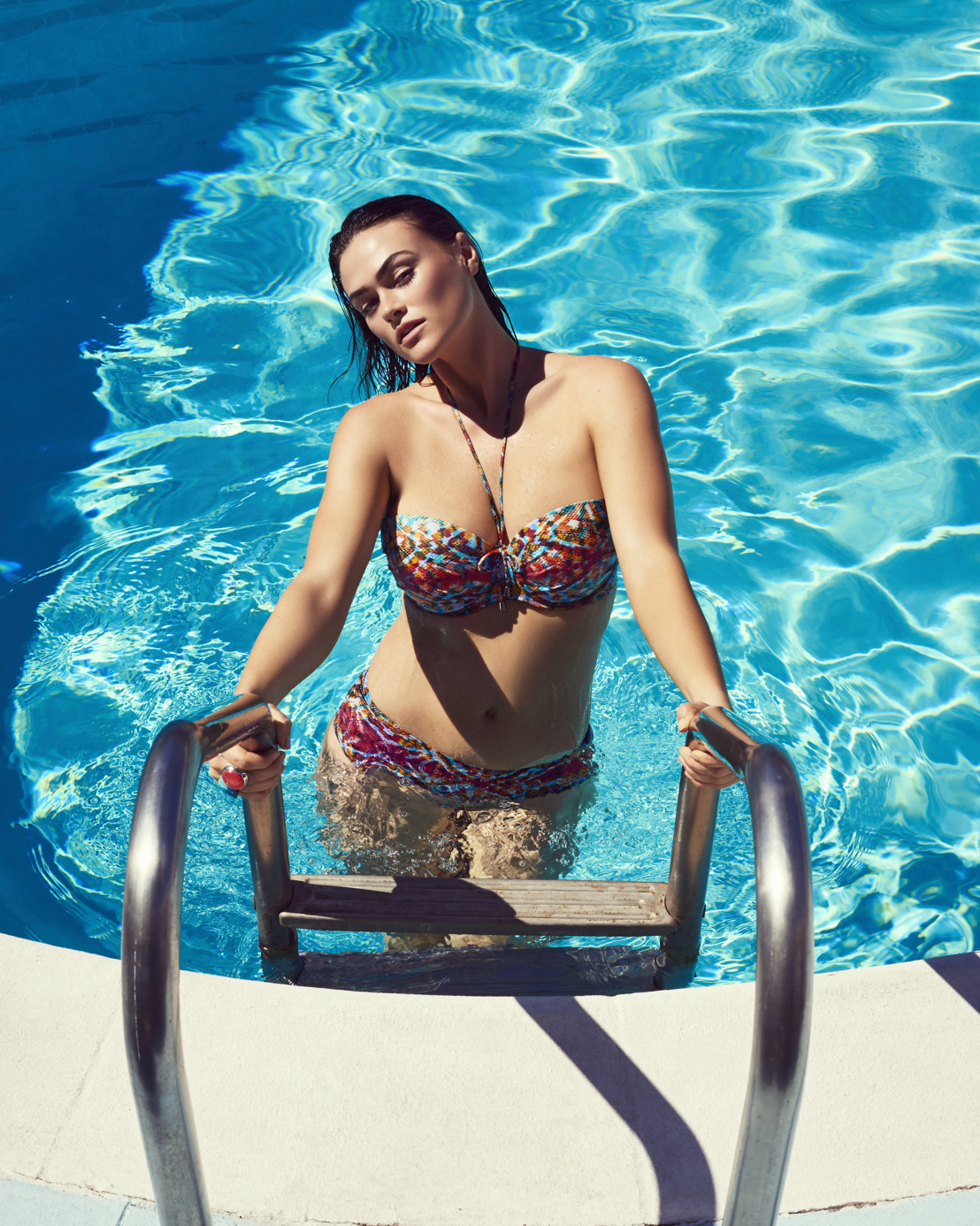 PrimaDonna Swim SS19: Pop art, sixties vibes, and lots of California love
The latest PrimaDonna Swim collection was inspired by the 1960s California coast
Imagine villas with sleek lines and swimming pools, palm trees under a cloudless sky, and the sweltering heat of the desert on the doorstep. This image perfectly encapsulates the brand-new PrimaDonna Swim collection. Super-trendy swimwear sets and stunning accessories that flatter your curves will take you back to the California of the 1960s. Vibrant colours, cool sixties prints, glamorous retro cuts, and a laid-back hippie vibe. Bring on the sun!
A Bigger Splash

David Hockney's paintings served as the inspiration for the new Swim collection. His world-famous pop art painting A Bigger Splash captures the moment right after someone dove into a swimming pool. A yellow diving board and blue water can be seen in the foreground, and a design home in sixties pink set against a cloudless blue sky can be seen in the background.

'David Hockey's art and free-spirited lifestyle were the inspiration for this new collection,' says Carole Lambert. 'The designer, who was openly gay, moved from his home in England to California – the nirvana for hippies and free spirits.'

Highlights:


Vegas: hippie-chic at its best
Sexy snakeskin print, psychedelic colours, and accessories that wouldn't look out of place at the Burning Man festival – Vegas is hippie-chic with a high-fashion twist and fantastic fit for women with curves.

Accessory tip: maxi dress with a sexy slit

This maxi dress can be worn as a beach dress or a strapless summer dress and features a stylish snakeskin print in hippie colours and a sexy slit on both sides.

California: laid-back denim and stripes

Californians seem to have mastered the art of transforming casual pieces, like jeans and T-shirts, into real fashion statements. Our California sets do their name justice: casual stripes, denim-look swimsuit fabric, and cool tops that can be worn as bikini tops or summer shirts. California lovin'...

Hollywood: sixties film star

The geometric print (with slimming effect), the warm colours, and the feminine sixties cuts make Hollywood irresistible. This luxury swimwear is fit for a star.
The true Hollywood star: flattering triangle swimsuit

The elegant stripes with a sixties feel highlight your feminine silhouette. With delicate spaghetti straps and sturdy padded cups.

Freedom: sexy desert look

We love animal prints on the beach, especially when they're as stylish and sophisticated as the Freedom sets. Black-and-khaki snakeskin print, stylish crossed straps, and cuts that flatter your curves like no other.

Tip: strapless bandeau bikini

This bikini has a stylish cut and a sexy snakeskin print. It comes with two sets of removable shoulder straps: clean-cut for over the shoulders and stylish with crossed straps at the back.
C
Cocktail: sunlight on water

The Cocktail series – the little black dress of the PrimaDonna Swim collection – was given a sixties make-over. A stylish triangle bikini top, a swimsuit with crossed straps at the back, and a stunning new colour: Booboo Blue. Like sunlight dancing on water...

New Wave: California colour palette

Clear blue water, clear skies, and a sixties villa in candy colours. David Hockney's paintings served as the inspiration for the colourful New Wave sets, which feature retro colours that are perfect for summer!

For more visuals go to our media galery