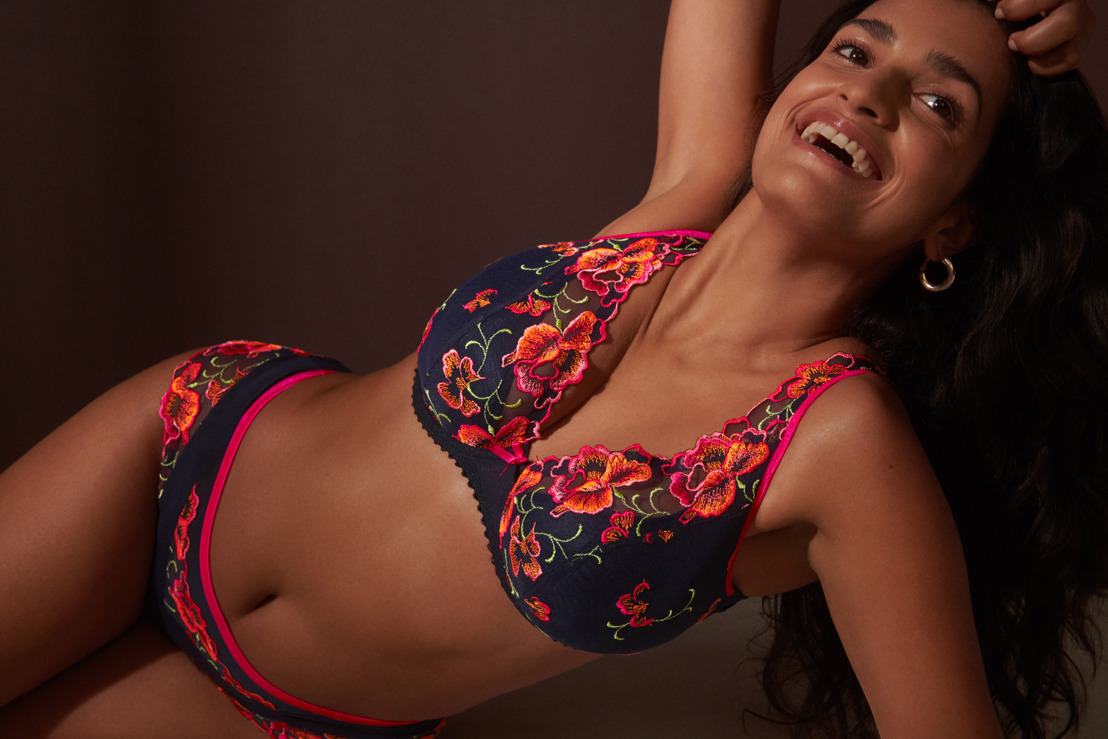 PrimaDonna AW23 collection is all about experimenting with colors, styles and prints
Comfort or fashion? With a PrimaDonna lingerie set, you never have to choose. This season, the Belgian lingerie brand invites you to expand your horizons, discover new styles and experiment with prints and colors. PrimaDonna is all about lingerie that fits like a dream and boosts your confidence. A look that makes you shine, just like the PrimaDonna fans in the new winter collection. Shine in PrimaDonna.
Do it your way
​
Being yourself means wearing what makes you feel good. This fall, our designers translated the latest fashion trends into an extensive lingerie collection with a superior fit for larger cup sizes. From sexy and romantic to minimalist and luxurious: you do you in PrimaDonna lingerie that flatters your figure.
PrimaDonna Twist is a thing of beauty that adds color to your day. Beauty, comfort and support: This collection has everything you need to go through life with confidence. Relax, take it easy and enjoy life in lingerie that flatters your figure and your style.
Shine in PrimaDonna
No one knows the PrimaDonna effect better than our dedicated fans. That's why we decided to shine the spotlight on some of our most loyal fans in our new campaign. As models-for-a-day, they show off our latest winter collection and explain how PrimaDonna changed the way they see themselves. In doing so, they hope to inspire other women to feel just as confident in beautiful lingerie with the perfect fit for larger cup sizes. Shine in PrimaDonna.
​
AW23 trends:
In addition to subtle neutrals like khaki and earth tones, the PrimaDonna collection features lots of bright neons and vibrant color contrasts. These two extremes complement each other effortlessly. PrimaDonna Twist features a riot of color, from warm neutrals and vintage hues to flirty pinks and reds.
​
If you like luxurious lingerie, this collection is for you! Delicate, sophisticated materials feel soft, airy, and incredible against the skin. Our designers used innovative techniques to create chic and feminine silhouettes featuring opulent floral-printed lace in vibrant colors. Pure comfort to make you shine.
​
Those familiar with our lingerie icons know that nothing beats their legendary fit and timeless look. Bestsellers like PrimaDonna Madison, Orlando and Deauville and PrimaDonna Twist Epirus and East End were given a trendy make-over. A must-have in your lingerie drawer!
The stars of the 2023 winter collection:
PRIMADONNA DEVDAHA: Happy winter vibes
These colorful sets captivate this fall in trendy styles such as a triangle bra with extra-low cups that fit like a dream and a trendy bodysuit with plunging cups. Featuring stunning color contrasts for winter and a fit that offers excellent support for larger cup sizes.
​
PRIMADONNA LAS SALINAS: Incredible fit, trendy colors
​The sets in the Las Salinas collection are available this fall in Empire Green, a combination of neon lime, coral and purple that is totally on-trend. The bras with pre-formed cups fit like a dream and are a bestseller among PrimaDonna fans.
​
PRIMADONNA TWIST LENOX HILL: A statement look with an oh-so airy fit
The stretch tulle with an Italian print has the allure of an abstract painting. Warm, expressive colors like scarlet red, fuchsia and electric blue create surprising high-fashion looks. Our favorite style is the plunge triangle bra with a super-airy and comfortable fit.
PRIMADONNA TWIST EPIRUS: T-shirt bras with cool seventies-style lace
PrimaDonna Twist Epirus has been a bestseller for several seasons now. The delicate lace T-shirt bras ensure a comfortable fit for larger cup sizes and are invisible every outfit. The chic dark-blue hue is extremely flattering on both light and dark skin tones. This series was designed for women with a larger cup size who love stylish lingerie with a superior fit.
Click here for more visuals.