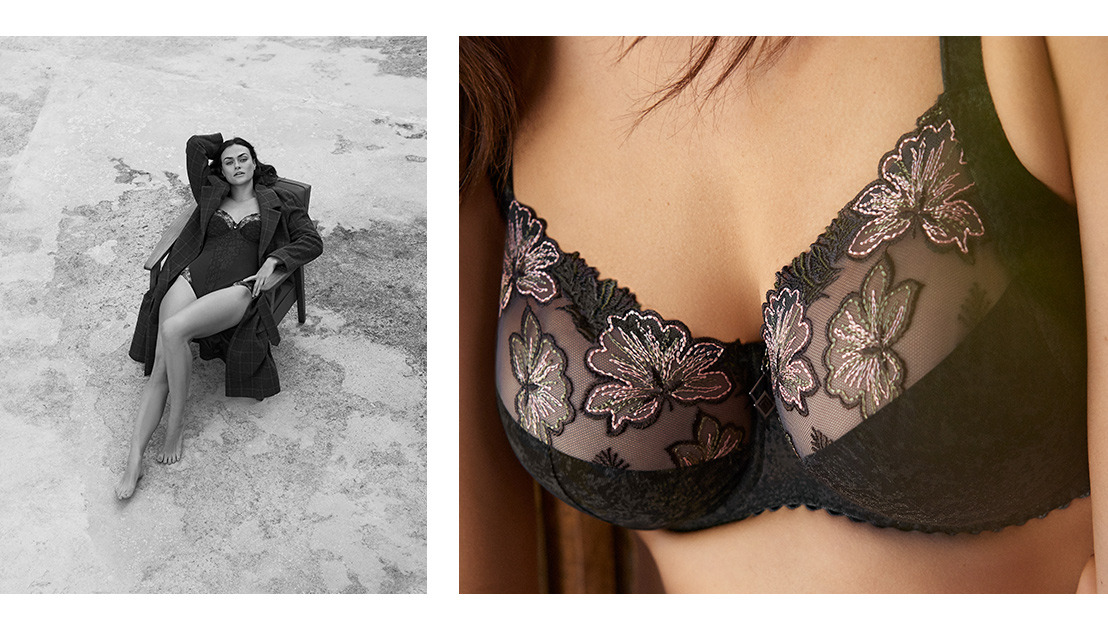 PrimaDonna AW19: Warm tones and luxurious materials
For more than 150 years, PrimaDonna's designs have been renowned for their ultimate support and elegance for feminine curves. The lingerie brand combines the perfect fit with a refined eye for fashion and trends. The fall collection celebrates warm colors, elegant materials, and feminine silhouettes.
Wild Flower: Wild flowers and trendy tweed
The tweed print in a warm green-gray flatters your winter skin tone, and the sparkling flowers give your cleavage the attention it deserves. The Wild Flower sets also offer an excellent fit: Firm, supportive, and yet light. Whether you're heading to work or going on a night out or to a party, this lingerie is perfect for any occasion!
Tip: The briefs are finished with a delicate tulle trim. Extremely elegant and invisible under clothes!
Deauville: sparkle all the way
If you've never tried on a Deauville before, now is the time to do it! This season, the classic with the legendary fit will be available in a stylish midnight-blue with a touch of glitter. Lingerie that's perfect for parties... or for any day of the week.
Must-have: The Deauville underwire bra has become an institution: More than a million of them have been sold worldwide. This fall, it's getting a stylish makeover with a nod to Armani and Dior. A fashionable must-have in your lingerie drawer!
Midnight Garden: Perfect lingerie for parties this season
Black lace and delicate flowers adorn your cups like colorful Christmas lights: Midnight Garden sets are the perfect party lingerie! The elegant straps and lace neckline can be displayed under your most sophisticated party outfit. And at the same time, this elegant bra gives fuller breasts all the support they need.
Style tip: Combine your festive bra with the stunning hot pants for a luxurious pin-up look. Festive and flattering!
Baboushka: Beautiful winter colors
Ready for a touch of color this winter? This deep green tint is right on trend this fall and also flatters just about any skin tone. The Baboushka sets are also made from delicate lace decorated with soft pink and blue embroidered flowers. They simply ooze femininity and provide ultimate comfort for women with a larger cup size.
Lovely detail: The straps are adorned with stunning eyelash lace. Beautiful under a festive dress or top!
Summer: what's in a name?
Let the storms rage outside this winter; we'll make it extra cozy inside with the Summer sets. Lingerie with striking flowers in warm tones on a simple background. Because colors are welcome all year round!
For more visuals, go to our media galery.
Vanessa De Vuyst Media & PR Manager, Van de Velde