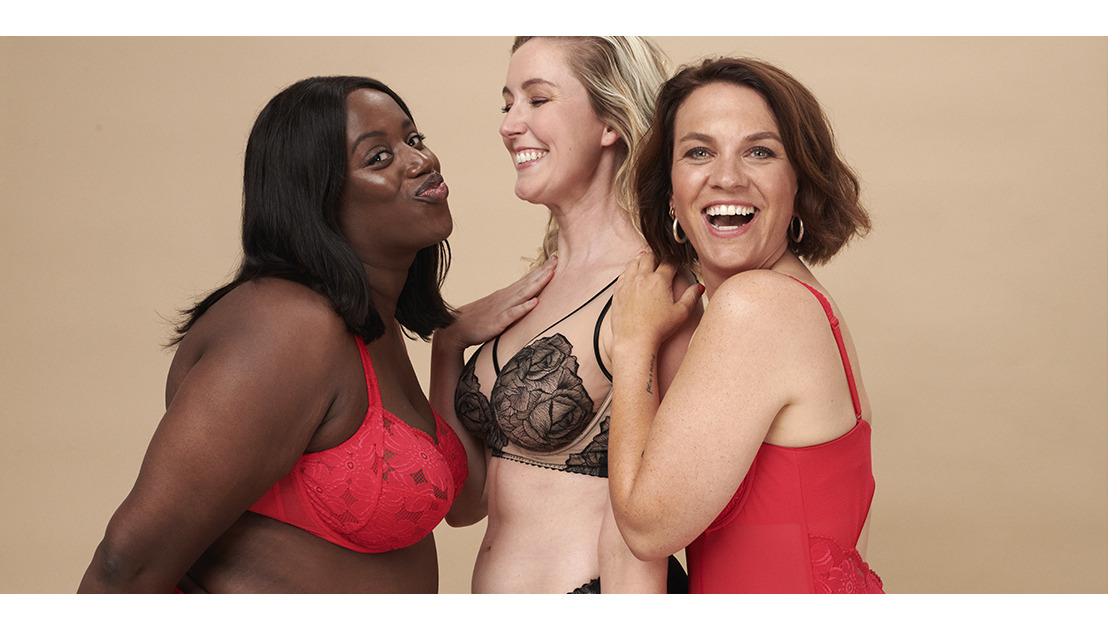 PrimaDonna and Siska Schoeters invited 5 ladies for a photoshoot in lingerie
Love at first fit
Providing plenty of comfort, a fashionable look, and a healthy dose of self-confidence. This is the promise made by PrimaDonna, the leading lingerie brand for larger breasts. However, the effect of beautiful, comfortable lingerie can only be felt once you try on one of our lingerie sets. That is why we, together with PrimaDonna ambassador Siska Schoeters, invited five "normal" – in other words, not famous – ladies to a fitting session and a photoshoot in lingerie.
#WeArePrimaDonna: women empower women
For 150 years, we have made it our mission to empower women. We do that by creating beautiful lingerie and through inspirational stories for and about women.With the#WeArePrimaDonna hashtag, we shine the spotlight on women who discuss their bodies and larger breasts in an open, informal way and therefore become role models to others.
Sometimes the women we interview are famous faces, and other times we focus on women who are not usually the center of attention. As an example, we recently invited five 'normal' women to don some of our lingerie and be photographed together with PrimaDonna ambassador Siska Schoeters.
'Spoiled like a royal'
A photoshoot in lingerie is not something you do every day. To Fanny, Helene, Phyllis, Sarah, and Lize, it was a unique experience that they really enjoyed. "I was spoiled like royal all day," says Fanny, "what a fantastic feeling."
In addition to a photoshoot, the ladies were treated to a lingerie fitting and styling session. For each model, we – together with the models – looked for a PrimaDonna set that perfectly matched their body and look.
Love at first fit
The photographs and video showcase the results of the lingerie styling session. The five happy, self-assured demeanors speak for themselves – just like the responses Siska heard in the dressing rooms. Such responses ranged from falling in love with a lingerie set at first try, to awarding bonus points for the excellent support, the delightful comfort, and the trendy, feminine look.
Fanny says,
"Absolutely gorgeous. Stunning. Oh-so feminine! It is also very comfortable and has a perfect fit. What gorgeous cleavage too! And it's nice and wide at the back. What a lovely print! That's that, I will head home in my car in a bit. I am very pleased."
Sarah adds:
"I feel a huge difference right away. I have heavier breasts. The lift that is lacking in other bras makes a huge difference for me. The straps really do provide effective support. I love the lacing too. I feel as proud as a peacock!"
Stories from the fitting room
While the make-up stylist works her magic, the ladies share personal stories. For example, stories about how ladies with larger breasts or bigger band size used have more difficulty in finding beautiful lingerie. Thankfully, times have changed even though it remains a challenge to find a beautiful, modern look and a perfect fit. "Certain brands usually do not make the cut," remarks Phyllis, "and normally the larger sizes are only available in basic colors."
Take care of yourself by wearing the right lingerie
Thankfully, our models found exactly what they desired in specialized lingerie boutiques. "I used to think, 'Oh no, no I have large breasts so I will now need to wear bras made for grannies.' But that is not the case at all. No, it definitely isn't," says Lize. In Phyllis' opinion, purchasing good lingerie is an investment – but one that is definitely worthwhile. She says, "At the end of the day, you are purchasing some self-confidence. It also offers you added comfort. Good lingerie gives you a boost. I need to do things like this more often. Do it rather than mull it over. Bring it on!"
Find your boutique nearby on primadonna.com
More visuals:
Annabelle Seynave Media & PR Manager, Vandevelde