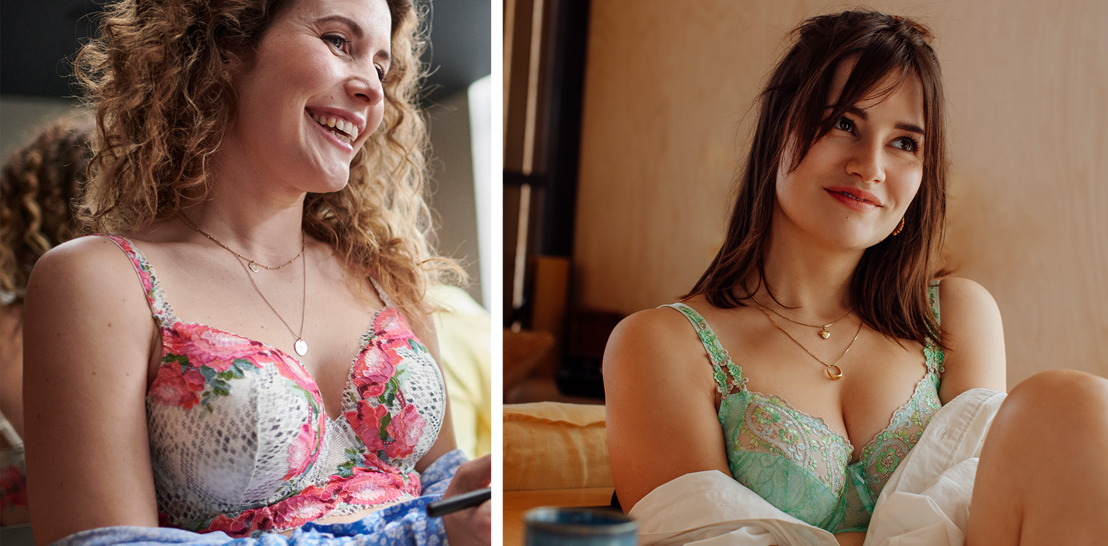 Inspiring women shine in front of PrimaDonna's lens
"Take it or leave it. I'm happy with my body and that's the most important thing."
Beautiful lingerie works wonders for your confidence. Belgian radio presenter Maureen Vanherberghen and Dutch actress Barbara Sloesen can testify to this. Both women are used to having cameras around them, but an interview in lingerie, that was also the first time for them. In perfectly fitting, beautiful lingerie, they feel so proud and feminine that they shine bright in front of PrimaDonna's lens. ​
#WeArePrimaDonna
Making women feel good, we have been doing that at PrimaDonna for over 150 years. By making beautiful lingerie that comfortably supports fuller bosoms. And by putting inspiring women – who exude confidence and like to talk openly about how they look at their bodies and in particular their larger bosom – in the spotlight. This time we share the inspiring conversations about body, bigger breasts and what lingerie does for your confidence by Dutch actress Barbara Sloesen and Belgian radio presenter Maureen Vanherbergen, together with her colleague Inge, sister Mélissa and Aunt Nancy. On the #WeArePrimaDonna platform we share all these recognisable stories, as an ode to women and to the beautiful lingerie that makes them even stronger and more confident.
Proud of your body and bigger bosom
Maureen wants to send a positive message to other women with this collaboration. Especially now that she is pregnant and expecting her first child, she thinks this is more important than ever.
"I was a bit excited when I stepped into this adventure, but I want to show that you have to be proud of your body, even though there are days when you are insecure. By standing in front of that lens in lingerie I want to show other women that it is fine to be proud of your body and larger bosom. Be fierce. Own it!" - Maureen, Belgian radio presenter
Confidence on and off the film set
Barbara Sloesen, Dutch actress: "As a woman with fuller breasts, I used to think sometimes that I had to camouflage my bosom a bit. In the meantime, I have evolved in this and I am convinced that it is actually something to be proud of, which may also be seen. When I wear a good bra that fits nicely and supports well, I feel much more comfortable and much more confident.
"Then I think, 'It is what it is. Take it or leave it. I'm happy with my body and that's the most important thing. Barbara'"
Recognisable for women with a fuller bosom
A lingerie photoshoot, which naturally leads to recognisable body talk, with a healthy dose of humour. The short videos we made let you listen in on conversations about the way you look at your body as a woman and how that view can change over the years.
"I have gone through an unimaginable evolution in terms of my breasts, body and lingerie. I used to be so insecure, I wanted to hide my bosom in far too small bras. That first time I experienced that feeling of a perfectly fitting bra, I really thought: I'm looking flawless. Confidence exuded me. My lingerie stylist has really changed my life and my self-confidence in that area." - Inge, Belgian radio presenter
Barbara tells how, as a young girl in secondary school, she didn't have breasts at all at first, until mother nature suddenly gave her a fuller bosom. Finding a bra that fitted well and looked nice also turned out not to be so easy. Many women with a larger cup size will no doubt recognise themselves in this story:
"Luckily my mother immediately took me to a lingerie boutique to choose a bra that fitted right, in the right size, with the right support. But in my memory, you didn't really have bras back then that were also a little sexy or youthful. Right away I felt like I was trying on my grandmother's bra, say up to my throat in a harness." - Barbara, Dutch actress
What beautiful lingerie does for your self-confidence
Fortunately, these women no longer have to wear granny underwear today. It is PrimaDonna's mission to make women with a larger cup size happy with beautiful lingerie that fits wonderfully. ​ PrimaDonna's designers push their technical and creative boundaries every season to translate lingerie trends into wearable lingerie for women with larger cup sizes. Trend colours? Check! Gorgeous lace, playful prints, sexy bralettes, flattering cuts? Check, check, double-check! Women with a bigger cup can no doubt be tempted by the new collections, because they can always count on PrimaDonna's unrivalled fit and support. Barbara expresses it perfectly:
"We, women with fuller breasts, also want the combination of a beautiful bra and good support. That your bra fits well, fits nicely and that you feel sexy and feminine wearing it. That you can be confident and think: Yes, I also have a beautiful bra." - Barbara, Dutch actress
"That moment when you have found the perfect bra is really great! Then you come out and you think: I feel good, I feel fancy, my day is made." ​ - Inge, Belgian radio presenter
Lizzy studnia Communication PR Agency France
We Love Pure PR Agency Belgium, Pure