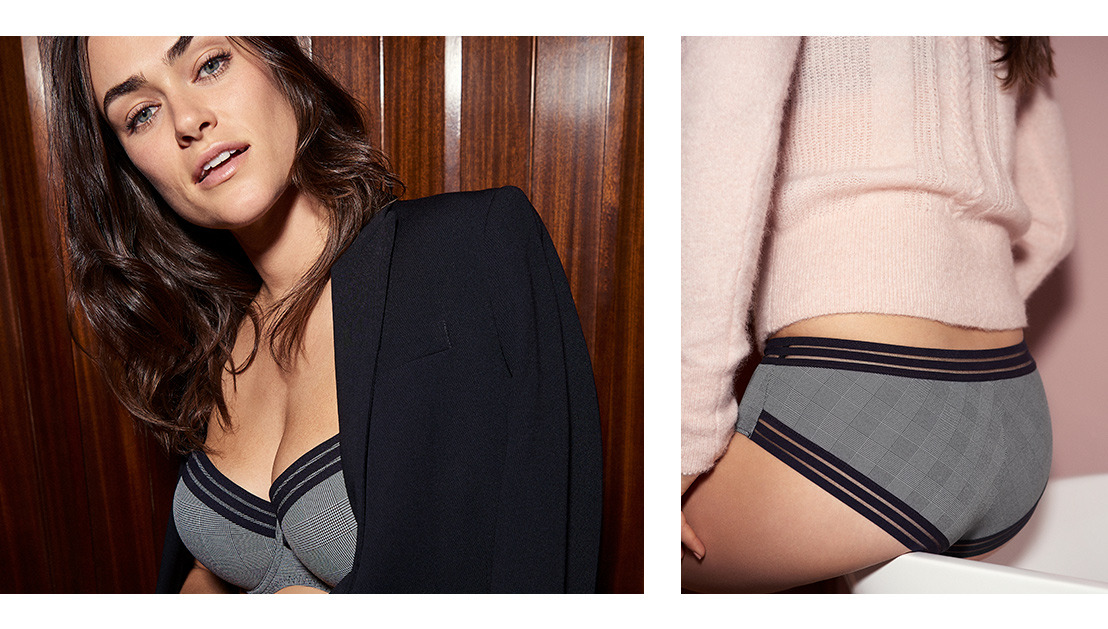 PrimaDonna Twist AW19: 100% Instagram-proof
Looking for lingerie that gives your curves the best support and flatters your figure with trendy designs? Only PrimaDonna Twist achieves that with such a flair for fashion and a love of feminine curves. The latest fall collection includes a series of trendy lingerie sets that add a touch of glamour to every moment. 100% Instagram-proof – and with a superior fit!
1919: Very couture, very attractive
This is festive lingerie in every sense of the word – because we are launching this lingerie series to celebrate Van de Velde's centenary. The sets are decorated with an abstract jewelry motif and have a sophisticated couture look. In stylish deep gray – which flatters lighter winter skin tones – or sparkling raspberry. Let's party!
Must-have: The transparent deep plunge bra has a deeper neckline than any other PrimaDonna Twist bra. Soooo gorgeous and solid support for women with a larger cup size.
Celebrity: Party in retro style
Want comfy lingerie that also looks cool? These sets are just what you're looking for! The Italian retro lace perfectly follows the contours of your body and creates a trendy combination with the soft denim-look fabric. Feminine and oh so cool!
Trend: Longline bras are back! A trendy style that also provides extra support for your breasts. A real must-have!
Gentle Lady: An office look with a feminine touch
Cool checks, flattering tulle, and black edging: The perfect mix for a fashionable office look. With its ultra-comfortable retro cut, Gentle Lady is not only beautiful under your clothes, but it can also be worn as a top with a stylish blazer over it. Perfect for the office or for a special occasion.
Trend: Flattering corsage for a playful dessus-dessous look, straight from the catwalk to the office.
I Do: Vintage lace that's perfect for parties
A shiny satin fabric and lots of vintage lace: I Do combines the best of both worlds. The smooth bras are invisible under your clothes and the lace details on the shoulders and back look amazing.
Our tip for parties this season: Bralette in strong all-over lace: A pleasure to wear and to receive!
For more visuals, go to our media galery.
Vanessa De Vuyst Media & PR Manager, Van de Velde